Putting excess waste to good (re)use
Cipla Medpro South Africa (Pty) Limited ("Cipla Medpro"), South Africa's fourth largest pharmaceutical company in the private sector, working through their waste management partner, Interwaste, has donated approximately 10 000 reusable ice packs to sporting fraternities and the local paramedic association in the Cape Town area.When importing from within the company's global network of manufacturing sites, Cipla takes every necessary measure to ensure the medication is protected. However, certain medication needs to be kept and stored at a stable chilled temperature to maintain the molecular structure, to ensure the product is both safe and effective for the treatment it is intended for. Therefore, while importing and transporting such medication, in addition to the temperature-controlled containers, Cipla also uses ice packs to ensure compliance with the respective prescribed storage temperature of the various medication.
According to Marinus du Plessis, Senior Manager of Facilities, Security & Systems at Cipla: "After we received a bulk delivery of medication, we had a surplus of ice packs, which were still in mint condition. As these are reusable products, we didn't want to merely dispose of them, but we didn't have further use for them in our business. We asked if Interwaste for a strategic solution that would enable the best repurposing or re-using of these products."
Tyron Hartle, Coastal Technical Officer, Interwaste Coastal Division, said: "We tried to redistribute as many of the ice packs as possible, with the objective of diverting re-usable waste from simply ending up in a landfill. To date, approximately 10 pallets of reusable ice packs have been donated to the Association of Paramedic Services for the Cape Town region, and the sporting fraternities at the University of the Western Cape, University of Cape Town and University of Stellenbosch. We are also liaising with other interested parties to distribute the balance of the ice packs," added Hartle.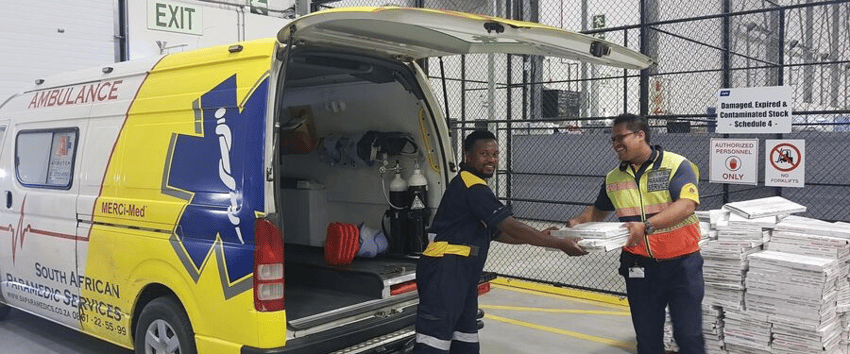 Association of Paramedic Services for the Cape Town region took receipt of reusable ice packs, as part of their plans to redistribute these products to deserving communities in rural and underprivileged areas.
Abdul Anderson, Cape Town Operations Manager, South African Paramedics Services, said: "We're incredibly thankful to Cipla and Interwaste for this donation. We will approach schools, community sport clubs and organisations in rural and underprivileged areas who could benefit from receiving such ice packs."
"We are very pleased with the outcome of this project. Social responsibility is at the core of Cipla and this is underpinned by our brand ethos of 'caring for life'. We are relentless in our commitment to initiatives aimed at improving the lives of South Africans. We are extremely grateful to Interwaste for their ingenuity and spectacular service around this project, which has also assisted our business in helping others," concluded du Plessis.
---
Sign up for priority access to the latest in waste stream innovations and legislation changes.
---
About Cipla:
Established in 1935, Cipla is a global pharmaceutical company focused on agile and sustainable growth, complex generics, and deepening portfolio in our home markets of India, South Africa, North America, and key regulated and emerging markets. Our strengths in the respiratory, anti-retroviral, urology, cardiology and CNS segments are well-known. Our 44 manufacturing sites around the world produce 50+ dosage forms and 1,500+ products using cutting-edge technology platforms to cater to our 80+ markets. Cipla is ranked 3rd largest in pharma in India (IQVIA MAT Dec'18), 3rd largest in the pharma private market in South Africa (IQVIA YTD Dec'18), and is among the most dispensed generic players in the US. For over eight decades, making a difference to patients has inspired every aspect of Cipla's work. Our paradigm-changing offer of a triple anti-retroviral therapy in HIV/AIDS at less than a dollar a day in Africa in 2001 is widely acknowledged as having contributed to bringing inclusiveness, accessibility and affordability to the centre of the movement. A responsible corporate citizen, Cipla's humanitarian approach to healthcare in pursuit of its purpose of 'Caring for Life' and deep-rooted community links wherever it is present make it a partner of choice to global health bodies, peers and all stakeholders. For more, please visit www.cipla.com.
About Cipla in South Africa:
Cipla Medpro South Africa (Pty) Limited is the third largest pharmaceutical manufacturer in the country. Through Cipla's ethos of 'Caring for Life', Cipla Medpro produces world-class medicines at affordable prices for the public and private sectors, advancing healthcare for all South Africans.
For more information, visit www.cipla.co.za/.
For additional information, please contact:
Cipla
Fidelia Van der Linde
Manager - Communications External & Digital
T: 021 943 4200