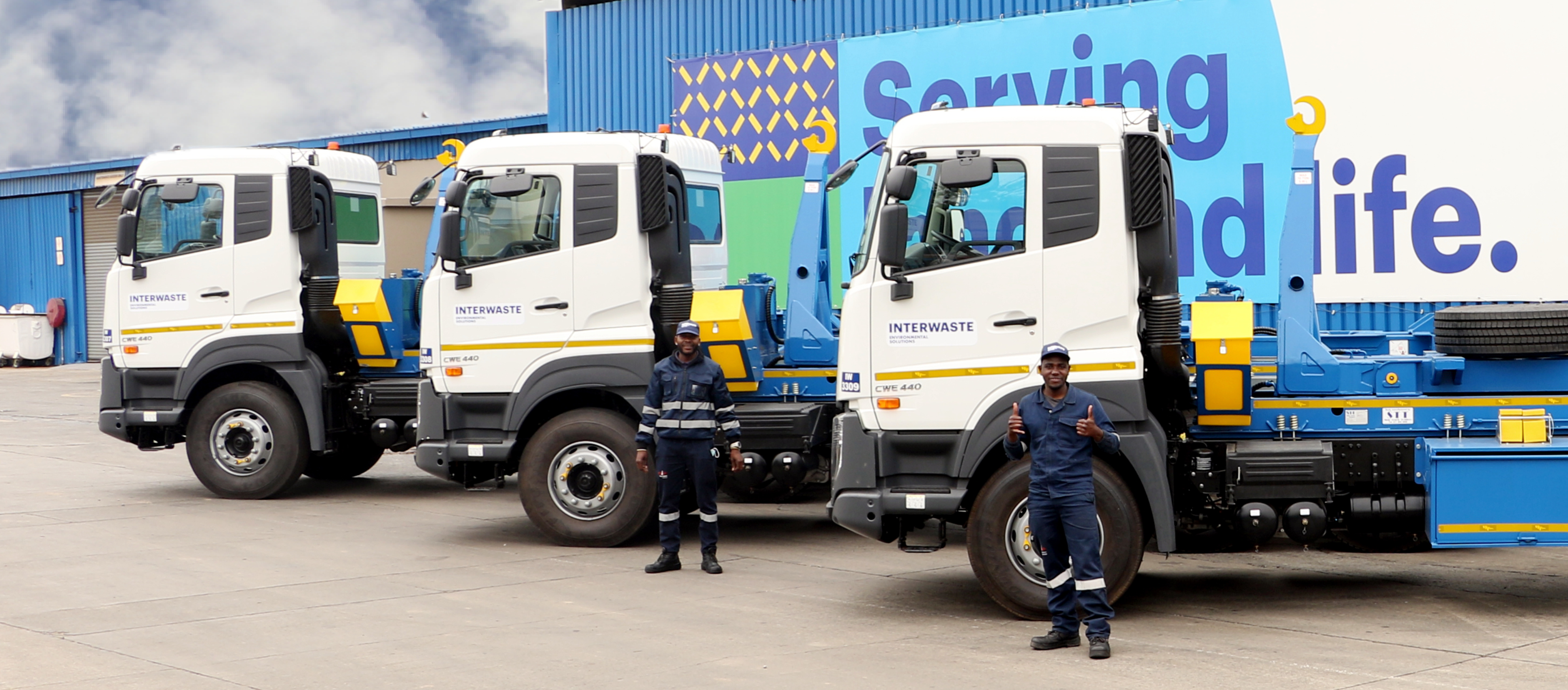 Globally, businesses are focusing on decarbonization initiatives to reduce their environmental impact to shift towards a low carbon economy – an urgent necessity to reduce rising temperatures and negative impacts of climate change. As a company focused on serving land and life through providing safe, compliant and effective waste management services, the protection of biodiversity and innovation sits at the heart of our business. Interwaste's focus on preserving our natural resources runs throughout the business, including how we manage and operate our large fleet of specialized waste vehicles.
October marks Transport Month in South Africa and is used to raise awareness of the important role transport plays in the economy as well as to show case safe, efficient and reliable transport systems. In 2019, South Africa was rated as the 14th largest emitter per capita of greenhouse gas emissions worldwide. This is a staggering rating considering the size of our population and economy. Even though the largest culprit is SA's energy sector with 90% of power generated through coal-fired power stations, the transport sector sits in the top five industries of highest carbon emitters.
And the increasing demands on the South African industrial landscape with the looming carbon tax bill's second phase expected to come into effect in 2023, companies are scrambling to comply with the changes and facilitate the transition to a low carbon economy. Organisations will require significant process and culture changes to comply with their industry specific requirements including transporters running large fleets. Begging the question, what can be done to decarbonise a logistics' fleet?
In the continued pursuit of Interwaste's purpose to Serve Land and Life, Interwaste strives for operational excellence through implementing multiple initiatives to reduce its impact on the environment and increase safety and efficiency. By employing a philosophy of a behavior-based culture to achieve a "zero harm goal", not only for employees but the broader environment, permeating beyond our core service offering to our clients as well as to all aspects of our internal operations. The pursuit of Environmental Sustainability and Governance goals or ESG in short is an entrenched belief system that has practical results in the Interwaste business. The current initiatives explored in the categories of operations and behavior, technology and assets and administrative functions are starting to achieve significant reductions.
Technology and Data analytics driving safety and operational efficiency
The integrated use of data rich platforms and holistic management models assist in providing the data analytics to improve and apply a continuous improvement mindset. For example, using driver management systems such as Lytx Drivecam, vehicle tracking, and incident reviews are shaping and improving operational protocols. The use of Lytx Drivecam as a behavior tracking tool is used to manage the significant "on the road" risk of staff and fellow road users to develop learnings and deliver individual counselling and training for drivers. In addition, incident and potential incident data assists in defining broad based strategies to reduce targeted behaviors. The use of vehicle tracking extends further than location tracking but to the active management of a vehicle whilst operating, assisting in reducing events such as speeding and idling which in turn not only reduces risk and unnecessary fuel consumption but ensures a safer and greener operation. Both systems are reinforced by internal Specialized Driver Trainers who focus on scheduled training on vehicle type protocols, road safety and "green band" driver training which specifically focusses on improving gear changing, harsh braking and acceleration to reduce wear and tear and fuel consumption on vehicles. Driver trainers create awareness through the targeted education-based initiatives, reflecting on the incident learnings and communicating these back into the organisation for effective across-the-board learning.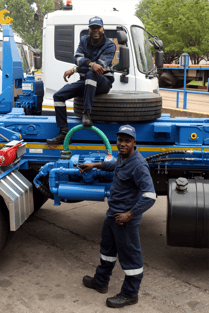 Other technology implemented to reduce climate impact provides the use of data analytics in logistics planning and asset management choices. The adage of "putting your money where your mouth is" rings true, as the real measure of adoption is incorporated into capital decisions made on technology, vehicle types and replacement cycles. The proactive review of logistics planning tools is essential for routing optimisation which is achieved and measured through actual execution and then refined to reduce kilometer and fuel consumption. Ensuring the payload optimisation of waste receptacles and that the right truck is dispatched for the right waste and right equipment, every time, is crucial.
The use of only Euro 3 rated vehicles (as Euro 5 vehicles and fueling infrastructure are still in their infancy in South Africa) for the Interwaste fleet promotes the highest rating available in engine types available. These are also supported by a strict preventative maintenance programme responsible for minimising downtime and repairs to keep the wheels rolling and ensuring a reliable and efficient service to clients.
Interwaste's inhouse workshop which services the majority of the Interwaste fleet includes a "state of the art" maintenance pit for vehicle quality checks, brake testing system and emission testing before a vehicle is approved to return to operations. The emissions testing is essential in managing the performance of emissions for the target range of the vehicle and enables proactive diagnostics of potential engine problems that might arise. Ensuring all vehicles are maintained at the highest OEM specification further reduces downtime, costs and unnecessary dead kilometers. Operational cost are managed at a granular level of Cost per KM by ensuring tyres, fuel and maintenance KPI's are always in check. An example of this is the accuracy achieved through the fuel consumption, which is digitally managed and tracked through an in-house software development system to manage fuel by km or hour on an individual vehicle, vehicle type and depot based against targeted fuel consumption benchmarks daily.
The backbone or central nervous system of any operation is the dreaded paperwork and information flow but these are changing with the pursuit of a paperless environment which is the epitome of efficiency and compliance. An integrated digital application is used to enable the signing on glass technology - transitioning from the triplicate POD books of the past. A further shift we have made is from couriering invoice packs, to a directly emailed invoice. Alternatively, clients can access their invoices and documents through the online client portal which is accessible 24/7.
There is no doubt that achieving operational excellence with a significant weighting on safety, efficiency and protecting the environment, is a pragmatic and delivers positive impacts on the environment, service delivery and the bottom line.